Learn More About The Golf 8
Overview of the Golf 8 GTI
We had to wait a fair while but, the highly anticipated VW Golf 8 GTI is available in South Africa! Shortly after its local launch on 1 September 2021, Avis Car Rental became the first customer to receive theirs. The hype for its release was real as over 1 000 South Africans registered their interest online when pre-orders began on 19 July 2021.
One of the undeniable selling points of this vehicle is its performance. The 2.0 TSI Engine with 180 kilowatts allows its driver to experience the thrill of speed in classic VW comfort. Additionally, the Golf 8 has been kitted out with the latest Volkswagen tech. This ensures that you can experience your driving thrill, without the hassle of an outdated cockpit.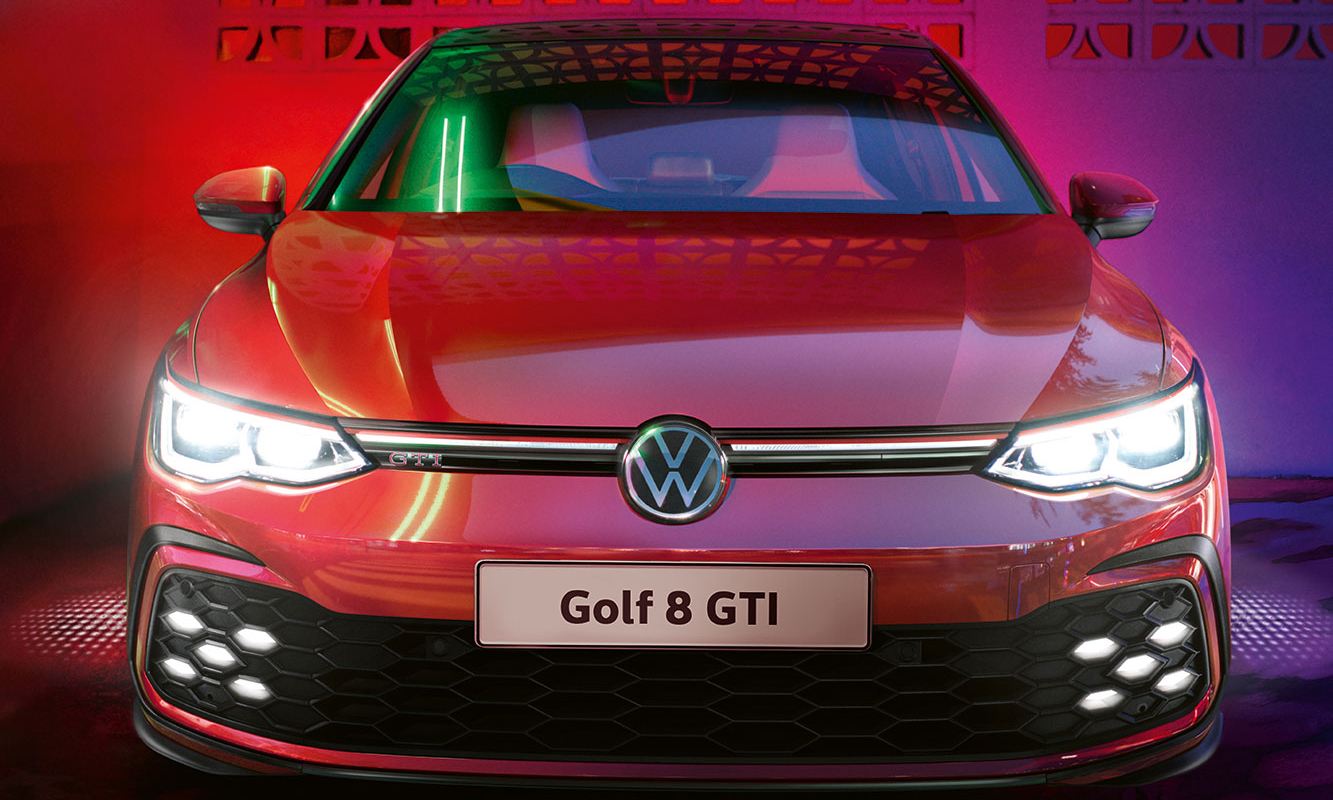 Golf GTI Specs
You may be wondering, what does GTI stand for? According to VW South Coast, Volkswagen coined this term over 40 years ago when they invented Grand Touring Injection technology.
The technology was created to enhance vehicles' performance over long distances, and keep it consistently excellent. This technology improves a vehicle's power and fuel efficiency. Now that we have covered what GTI tech is, let's take a closer look at the VW Golf's specs.
Golf GTI Specifications
2.0 TSI GTI 7-speed DSG
Engine
Cylinders
4
Capacity (cm3)
2.0/1984
Valves (per cylinder)
4
Turbocharger
Standard
Output (kW @ r/min)
180kW
Torque (Nm @ r/min)
370 @ 1600-4300
CO2 Emissions (g/km)
159
Start-stop system with generative braking
Standard
Performance
Acceleration in seconds (0 - 100 km/h)
6,4s
Top speed (km/h)
250km/h
Fuel Consumption
(litres / 100 km)
Urban cycle (Euro)
8,6
Extra-urban cycle (Euro)
5,3
Combined cycle (Euro)
7,0
Dimensions / Capacities
Fuel tank (litres)
50
Luggage space (litres)
374
Length (mm)
4287
Width (mm) 
1789
Height (mm)
1478
Wheelbase (mm)
2627
Track - front (mm)
1545
Track - rear (mm)
1523
Turning circle (m)
10.9
Tare vehicle mass, (kg)
1463
Gross vehicle mass, GVM (kg)
1950
Standard Features
The VW Golf 8 GTI comes with a range of standard features that add to the hatch's convenience, looks, safety, technology and more. These standard features include, but aren't limited to, the following:
Red brake callipers
ABS
EBD
ESP
Tyre pressure monitor
Start-stop system featuring generative braking
Turbocharger
Sports suspension
Automatic headlight activation
Heated Top Sports seats in 'Vienna' leather
Power seat adjustment, complete with a memory feature for the right seat
Active climate front seats
ISOFIX child seat preparation
Progressive steering
'Rest Assist' fatigue detection
Park Distance Control features warning signals for any obstacles at the front or back of the car
Digital Cockpit Pro (multi-colour) featuring a variety of different info profiles
Inductive charging for mobile phones
2 USB type C data sockets, as well as 2 USB charging sockets in the back of the car
Leather-wrapped, multi-function sports steering wheel, complete with heating, as well as touch control and shifting
Golf 8 GTI Price
As of the time of writing (April 2022), only a single variant of the VW Golf 8 is available locally, and that's the VW Golf 8 GTI 2.0 TSI DSG. If you're looking to own one of these beauties, its price starts at R689 800.
A 5-year/90 000 km service plan and 3-year/120 000 km warranty are included as standard. If you're curious about monthly instalments, be sure to visit the Golf 8 new vehicle page on our website or get in touch with your nearest CFAO Volkswagen dealership.
Although this price tag may seem high, VW Golf enthusiasts will already know that it's absolutely worth it. Below you can view the full list of prices & options for the Golf 8 GTI.
Full Prices & Options
|   | Golf 8 TSI 180kW GTI DSG |
| --- | --- |
| Recommended Retail Price | R689,800 |
| Metallic / Pearlescent Paint | No Cost |
| Oryx White | R6,200 |
| Panoramic Sunroof (Tilt & Slide) | R15,500 |
| Trailer hitch mechanically swivelling and power-detachable | R9,600 |
| IQ Light: LED Matrix Headlights | R10,300 |
| Black Styling Package + Bergamo 18" Alloy Wheels in Black | R8,200 |
| 19" Adelaide Alloy Wheels (Forces PDF: Sports Suspension for 19" Alloy Wheels) | R12,300 |
| Head-Up Display (Forces RCA: Discover Pro) | R10,800 |
| Adaptive chassis control including driving profile selection (For 18" alloy wheels) | R15,200 |
| Adaptive chassis control including driving profile selection (For 19" alloy wheels) | R15,200 |
| Smokers package: ashtray and cigarette lighter in the front | R550 |
| Harmon Kardon Audio (Forces RCA: Discover Pro) | R11,800 |
| "Discover Pro" Radio with Satellite Navigation, USB, Wireless App-Connect and Voice Control | R18,900 |
| "Vienna" leather seat upholstery | Standard |
| Parallel parking assistant "Park Assist" | R6,200 |
| "Rear Assist" rearview camera | R4,700 |
| Blindspot monitor with Rear Traffic Alert and Lane Assist incl. Electrically Folding Mirrors (Forces RCA: Discover Pro) | R12,900 |
| Travel Assist: Lane Assist + Adaptive Cruise Control (Forces PG3) | R11,400 |
| Adaptive cruise control with Front Assist and Autonomous Emergency Braking System | R11,300 |
*Please take into account that prices are subject to change without prior notice. For the latest costs and figures, kindly contact your preferred CFAO Volkswagen dealer.
VW Golf 8 Exterior
Whichever angle you admire it from, the new Golf 8 is a thing of beauty. Its sporty and sleek exterior immediately captures the attention – and hearts – of onlookers, while the interior impresses all seat occupants thanks to its luxurious appointments. Join us in exploring just what makes the VW Golf 8 GTI such a striking hatch – inside and out.
Two words immediately come to mind when appreciating the VW Golf 8 GTI's exterior: sporty and elegant. The tell-tale marks of Volkswagen's GTI line are visible on its handsome face: the black air intakes, honeycomb-design radiator grille and bold red line extended across the front.
The legendary hot hatch's appearance is further enhanced by the presence of striking elements such as slim LED headlights, extended side skirts and a dynamic bumper. Its standard LED fog lights at the front come in an updated 5-honeycomb design that forms part of the bumper. The extra light they provide will make the whole world seem different. Look striking even when making your way through thick fog.
Take an appreciative glance at the rear and you'll immediately notice GTI-essential features like its chrome-plated tailpipes and athletic roof spoiler. The back end is completed by a pair of distinct LED taillights.
It's clear that, in the latest version of Volkswagen's iconic hatch, its sporty nature is expressed better than ever before.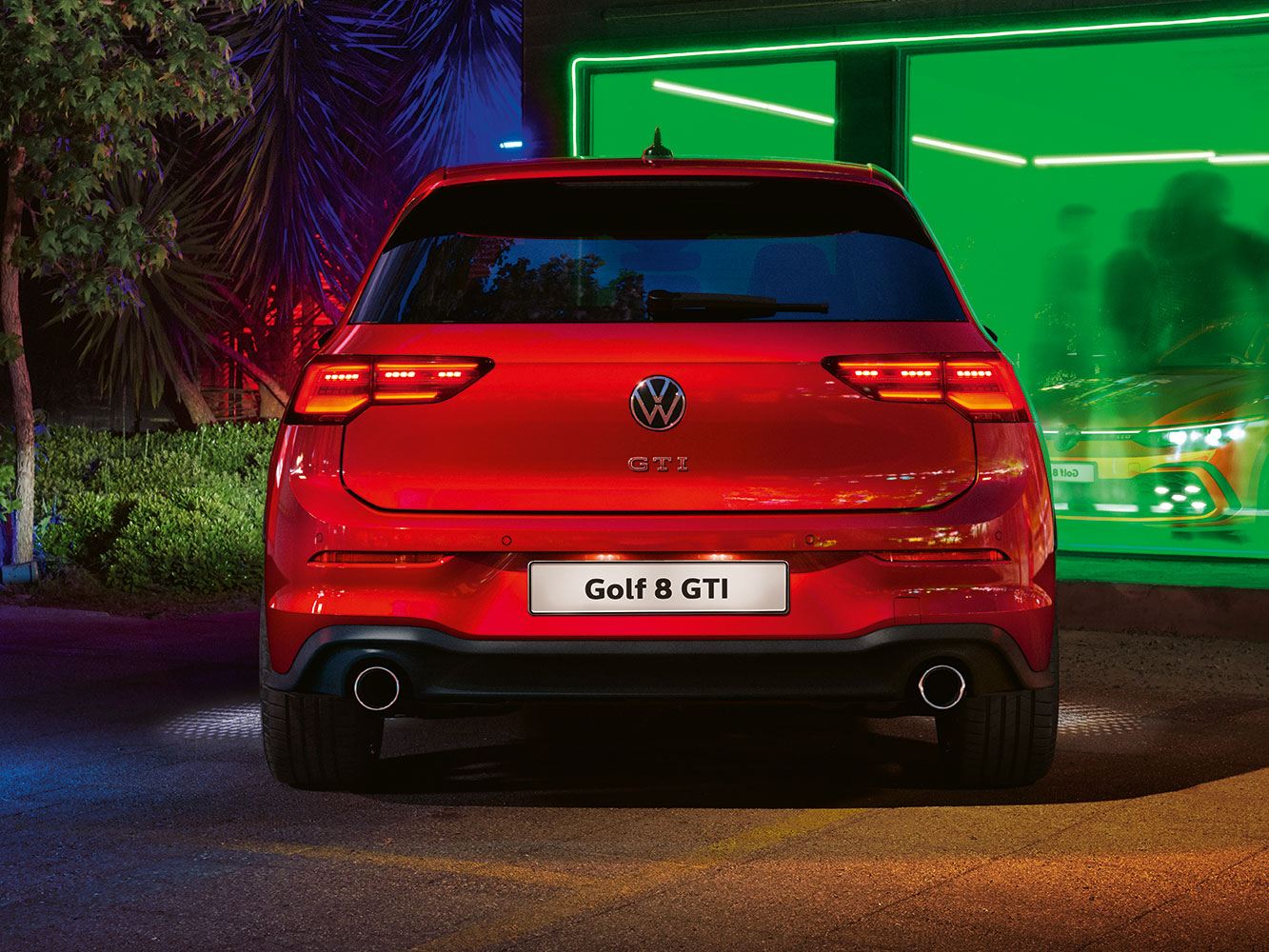 Golf 8 Interior
Once you climb into the cabin, you'll quickly come to realise that all components of the VW Golf 8 GTI are tailored to work together and complement each other. The exterior's sportiness is carried through to the interior as well. From the trademark red stitching to the decorative trims, black headliner and stainless steel pedals – the inside of this hatch is the embodiment of luxury.
Not only are the new Golf 8's seats comfortable, but chic as well. The inner seat bolsters of the premium front sport seats, as well as the central seat panels, come covered in smooth 'Vienna' leather as standard. This only further enhances the premium feeling of the interior.
Another cabin update that'll immediately grab your attention is just how futuristic and digitised it has all become. The vast majority of interior functions, like the air conditioning system, radio and lighting, can be controlled through the use of touch-sensitive sliders and surfaces. The inside is ruled by high-resolution displays.
Why, you can even operate the VW Golf 8 GTI's leather-wrapped, multi-function sports steering wheel with a mere tap of your finger. Intelligent menu navigation makes accessing all of the hatch's functions a breeze. Your inputs are confirmed by subtle vibrations thanks to haptic feedback technology.
Finally, LED background lighting accentuates all the right places throughout the interior – illuminating the cabin in an attractive glow.
Golf 8 GTI review
More great news: the new Golf 8 not only performs exceptionally but boasts respectable fuel-efficiency figures. On its urban cycle, its average fuel consumption is around 8,6 l/100 km, while this drops to an impressive 5,3 l/100 km when on its extra-urban cycle. The VW Golf 8 GTI's combined fuel consumption is roughly 7,0 l/100 km.
Now, on to performance. The new Golf 8 has a power output of 180 kW and a torque output of 370 Nm. This, along with factors such as its aerodynamic design, powerful 2.0 l engine and 7-speed DSG gearbox allow the hatch to accelerate from 0-100 km/h in a mere 6,4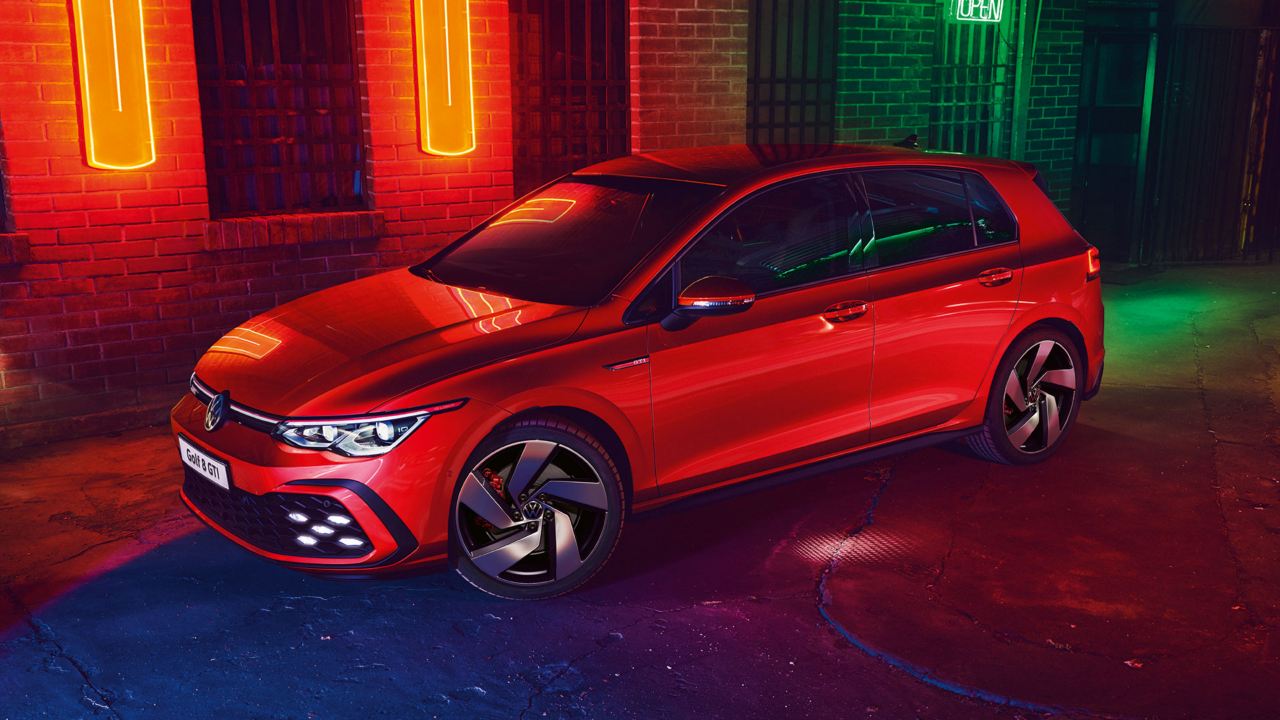 The Golf 8 has a (regulated) top speed of 250 km/h. With a little bit of help from the GTI's front differential lock, you'll remain stable on the road, no matter what the conditions or at what speed you're travelling.
While you're still researching, be sure to take a look at IOL's independent VW Golf 8 GTI review as well. You can also watch the video review by Top Gear.
VW Golf 8 FAQs
What is the top speed of a Golf 8 GTI?
The 2.0 TSI allows a top speed of (regulated) 250 km/h for the Golf 8 GTI. The Golf 8 can accelerate from 0 – 100 km/h in a speedy 6.4 seconds.
How many Golf 8 GTI are there in South Africa?
There are various dealers that stock the Golf 8, if you are interested in purchasing one from VW CFAO you can check our stock or contact us!
Is the Golf 8 GTI a good car?
The Golf 8 GTI is a great car, with impressive performance and modern technology. This car is perfect for someone looking for a hatch that packs a punch – and looks good while doing it.
How much will the Golf 8 GTI cost?
The Golf 8 GTI starts from R689,800. There are also optional features that can be added to the vehicle to enhance your driving experience (at extra costs).
What engine does the Golf 8 have?
The Golf 8 has a 2.0 TSI GTI 7-speed DSG engine that can accelerate from 0-100km/h in 6.4 seconds.
VW Golf 8 GTI for sale
Would you like to learn even more about the latest VW Golf 8 GTI? Maybe you're interested in booking a test drive? Whatever the case may be – feel free to contact your nearest CFAO Volkswagen dealership.
Our knowledgeable staff will be happy to assist in any way possible. You can also check out our customer reviews to learn more about working with us. We can't wait to hear from you!
You can also contact us directly with your questions or comments:
Phone: 011 795 5000
Email: intuli@cfaomotors.co.za