If you're a business owner who relies on your car to get the job done, the VW Crafter should be at the top of your list of vehicles to consider. This impressive workhorse is perfect for anyone who needs to transport large items or lots of people, and it's got all the features you need to make your life easier. So, if you're in the market for a new van, check out the VW Crafter – you won't be disappointed!
It's a universal truth that all business owners can relate to – time is money. That's why it's so crucial to invest in a reliable, tried-and-tested Volkswagen van. Volkswagen's Crafter range has been a fan favourite in the medium to large van market for some years and for good reason. Its versatility and robustness make it one of the best in its class. Read on to discover what makes the Crafter one of the best vans on the market!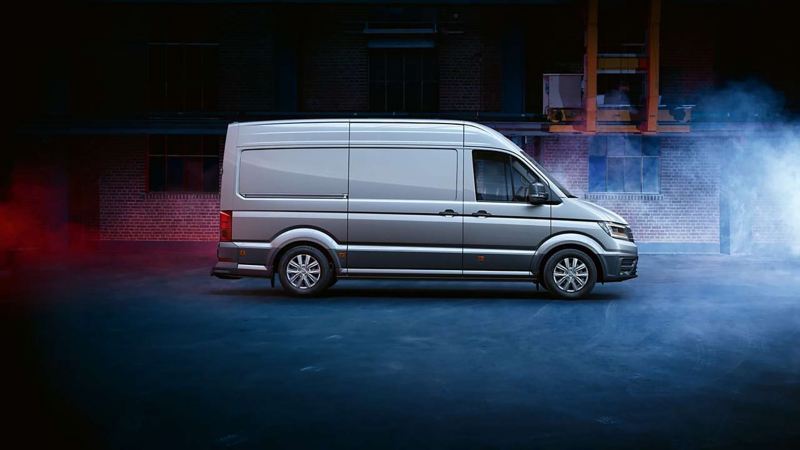 Make Your Workday Easier with A VW Van
Flexible, economical, and able to handle the daily demands of doing business, the latest Volkswagen Crafter range will get the job done on time, every time. The range's overall sturdiness allows all its derivatives to hold up against even the most challenging road conditions, while incredibly fuel-efficient 2.0 litre TDI engines help you save money on refuelling in the long run.
The Crafter range of vans consists of a stable of workhorses without equal that is sure to become your new star employee. If you're looking for a van that offers plenty of personalisation options to meet your specific business needs, then the Volkswagen Crafter is the solution.
Take Your Pick from A Variety of Models
With several dealerships across the country, CFAO Volkswagen brings the full Volkswagen South Africa range to the public through our extensive dealership network. Whether you're on the lookout for a new (or used) Volkswagen passenger or commercial vehicle, we can help with a considerable stock holding. There are plenty of vehicles to choose from.
If you prefer a custom order, we will gladly assist you and help you navigate the ordering process with ease. When you buy your new vehicle from us, you can expect top-class after-care and a competitive price. Get in touch with our fantastic F&I team and they will help to put together a deal that suits your budget, whether you're purchasing as a business or individual.
The Crafter is available in both panel van and bus conversion ready versions.
Some of the latest Crafter derivatives include:
The Crafter 35 Panel Van 2.0 TDI 103 kW (MCV)
The Crafter 35 Panel Van 2.0 TDI 103 kW (LCV)
The Crafter 35 Panel Van 2.0 TDI 103kW Auto (MCV)
The Crafter 35 Panel Van 2.0 TDI 103kW 4MOTION® (MCV)
The Crafter 50 Panel Van 2.0 TDI 103kW LWB HR
The Crafter 50 Bus Conversion ready 2.0 TDI 103kW LWB HR
The Crafter 50 Panel Van 2.0 TDI 103kW XL
The Crafter 50 Bus Conversion ready 2.0 TDI 103kW XL
Please take note that we won't be focusing on a single VW Van Crafter derivative in this article but aim to give you an informative Crafter review of the whole range. For more specific information on any of these models and more, be sure to get in touch with a CFAO Volkswagen dealer near you. We also invite you to book a test drive with the Volkswagen Crafter derivative of your choice at the dealer closest to you.
What to Expect From the Volkswagen Crafter Range: An Overview
Volkswagen's Crafter 35 Panel Van 2.0 TDI 103 kW (MCV) can be considered this range's entry-level derivative. To give you a better idea of what you can come to expect from the rest of the range, we will provide you with a brief overview of the van and some of its basic features.
If you are interested in learning more about any derivative's costs, be sure to read our Volkswagen Crafter price article as well.
Engine Performance of the Crafter Derivative
Engine
Cylinders
4
Capacity (cm3)
1968
Output (kW @ r/min)
103@3500-3600
Torque (Nm @ r/min)
340 @ 1600-2250
CO2 emissions (g/km)
193
Transmission
6-speed Manual
Standard
Fuel Consumption
Urban cycle (litres / 100 km)
8,8
Extra-urban cycle (litres / 100 km)
6,5
Capacity (cm3)
1968
Combined cycle (litres / 100 km)
7,3
Dimensions and Capacities of the Crafter Derivative
Dimensions / Capacities
Fuel tank (l)
75
Length (mm)
5986
Height (mm)
2355
Width excl. mirrors (mm)
2040
Wheelbase (mm)
3640
Overhang - front (mm)
1000
Overhang - rear (mm)
1346
Turning circle (m)
13,6
Ground Clearance (mm)
195
Load compartment length (mm)
3201
Load compartment width (mm)
1832
Load compartment height with Normal roof (Crafter 35)
1726
Load compartment height with High roof (Crafter 35)
1961
Load compartment width between wheelhouses (mm)
1380
Load volume to roof - all seats in place (m3)
9,9
Load volume to roof - all seats in place with High roof (m3)
11,3
Sliding door aperture width (mm)
13,11
Sliding door aperture height (mm)
1587
Sliding door height with High roof (mm)
1822
Rear wing doors width (mm)
1552
Rear wing doors height (mm)
1605
Rear wing doors height with High roof (mm)
1840
Gross Vehicle Mass (GVM) (kg)
3550
Gross Combined Mass (GCM) (kg)
6000
Axle load limit front / rear (kg)
1800/2100
Trailer weight braked, 12% gradient (kg)
3000
Payload with driver (kg)
1597
Unladen Mass without driver and fuel (kg)
1953
Standard Convenience Features Available With the Crafter Derivative
3 seats
Height-adjustable head restraints
Driver seat includes longitudinal and backrest angle adjustment
2-seater front passenger bench seat with storage compartment
Warning buzzer and light for driver seatbelt not fastened
Seat trim covers in fabric "Austin"
Laminated windscreen with heat-insulating glass,
Windows with heat-insulating glass
Electric window winders – front
Do you want to learn more about the Crafter range's specs and features? Read our Volkswagen Crafter specs article too.
Exterior and Interior Design Review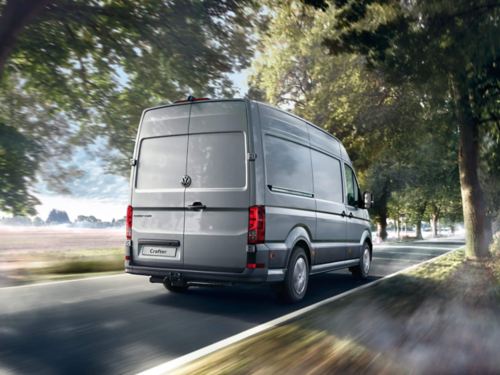 Despite being produced by the German automaker's Commercial Vehicle Division, it does take some of its design cues from the Passenger Vehicle Division. The van has a clean and professional commercial appearance on the exterior and interior, but excels with its warmth and personality.
Despite what you may have grown to believe about commercial vehicles, plenty have come to value and focus more on aesthetics in recent years. This includes the latest Crafter range in the Volkswagen line-up. The design lines taken from Volkswagen's passenger vehicle line-up is clear in the current Crafter range. Volkswagen Crafters now boast an air of premium German quality and solidity, making these VW vans a cut above the rest.
Volkswagen's DNA is made clear when viewing the Crafter from the outside, thanks to its proud VW badge, dominant headlight clusters and broad radiator grille. Its outward appearance is as professional as its performance. You get to choose from two wheel bases, three distinct roof configurations and three body lengths when ordering the new Crafter that suits your specific business needs.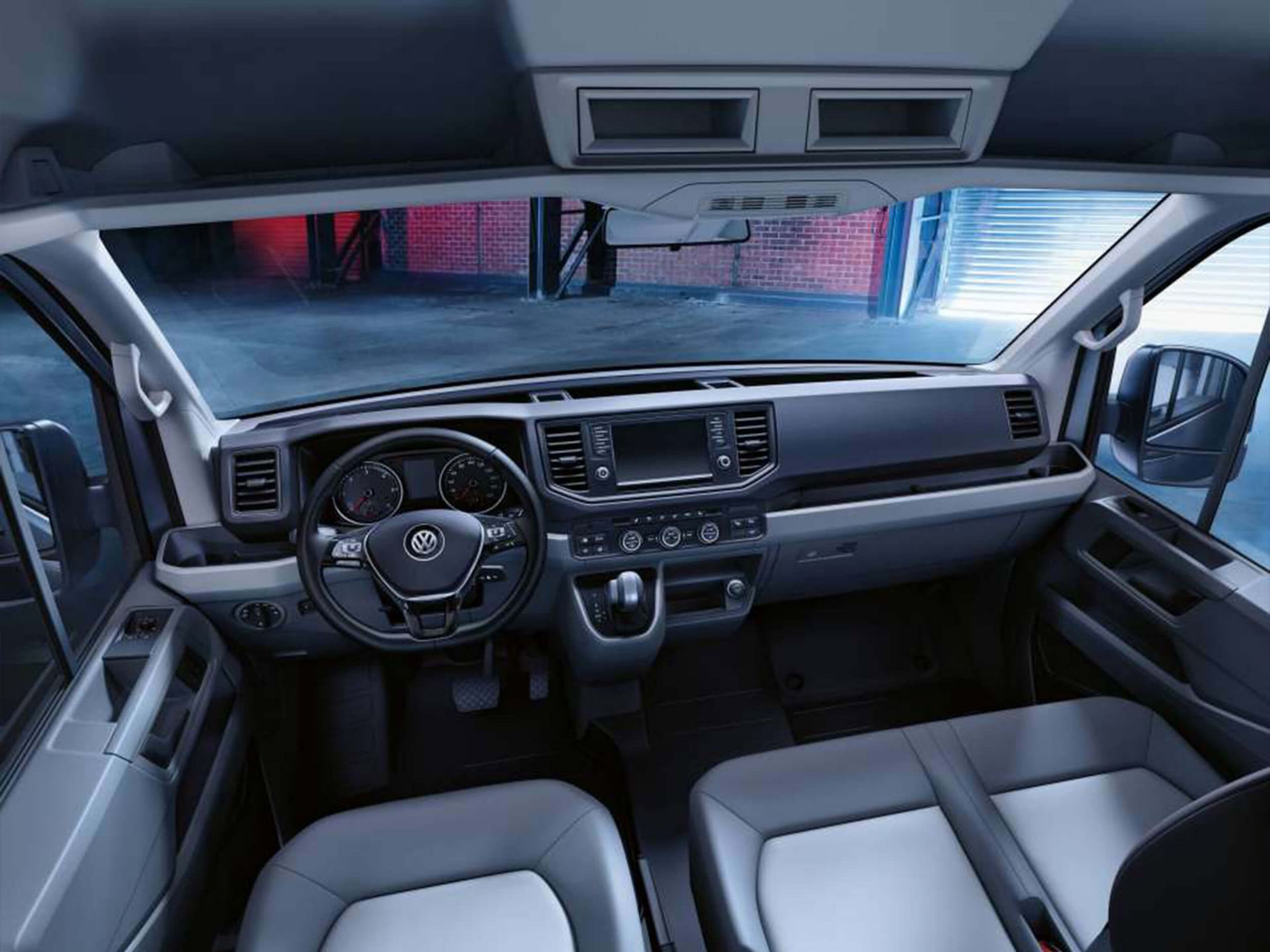 The perfection with which the Crafter range was assembled is made even clearer when setting foot in its interior. Attention has been given to all aspects of the Crafter cabin's design, to deliver unrivalled comfort and safety to both the driver and their passengers. Enhanced cabin ergonomics ensure higher levels of ease of use and practicality for all seat occupants, supporting them throughout a challenging day's work.
Some interior improvements include the addition of robust seat upholstery to ensure prolonged durability, several storage compartments located throughout the cabin and a revised control panel and instrument cluster. With the VW Crafter, you get to take a professional space on the road with you.
Performance and Practicality Review
Modern vans need to be functional and attractive, and the Crafter is exactly that. When it comes to large commercial vehicles, you'd be forgiven for thinking there are no easy to manoeuvre variants. However, the Crafter is. Settle down in the driver's seat, take it for a spin and you'll soon find the large van feels the same as a compact VW vehicle like the Golf or Polo in terms of handling and driveability. Space is generous for all seat occupants and cargo alike. It's never been a bad thing for a large vehicle to feel far smaller than it really is, plus much easier to drive than is initially expected.
Whether you end up choosing one of the front-wheel drive or rear-wheel drive derivatives, the Crafter is known for its comfortable and smooth ride, which only improves further when there's a load in the back. The new Volkswagen Crafter range also offers quick and responsive steering. A six-speed manual or eight-speed automatic gearbox functions nice and slick as well.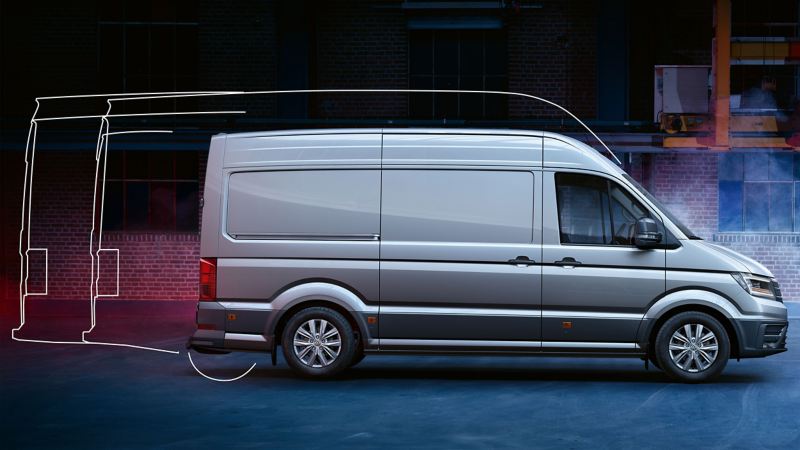 The engine in the Crafter is a 2.0 litre TDI and delivers near-instant power and torque, pulling effortlessly when just a few revs above idle. This range's braking performance is impressive too, considering its high weights. With the Crafter's typical loading capacity of between 9.9-17.5 m3, the range can handle every load thrown its way.
Its long loading space of up to 4.6 m also ensures that you never leave any cargo behind. When the time comes for loading and unloading cargo, you can access the goods from the rear end of the van through a set of wing doors or, alternatively, through the 1.3 m wide sliding door on the left-hand side. Transporting a payload of up to 2.5 tons has never been easier. To drive and use the Volkswagen Crafter is a breeze and a joy!
Safety and Security Review
Safety is a top priority in all of Volkswagen's vehicles, including the new Crafter. The range is equipped with various innovative safety features, all of which are designed to keep seat occupants and cargo out of trouble.
Standard safety features include, but aren't limited to, the following:
Automatic post-collision braking system
Hill-hold assist
Crosswind Assist
Driver Alert System
Driver and front passenger airbag with front passenger airbag deactivation
High level third brake light with LED technology
First Aid Kit and warning triangle
One wheel chock
Immobiliser
Central locking system with radio remote control and interior release mechanism
For more information on standard and optional safety features of the Crafter range, visit the new Crafter page on Volkswagen South Africa's website or download the latest brochure.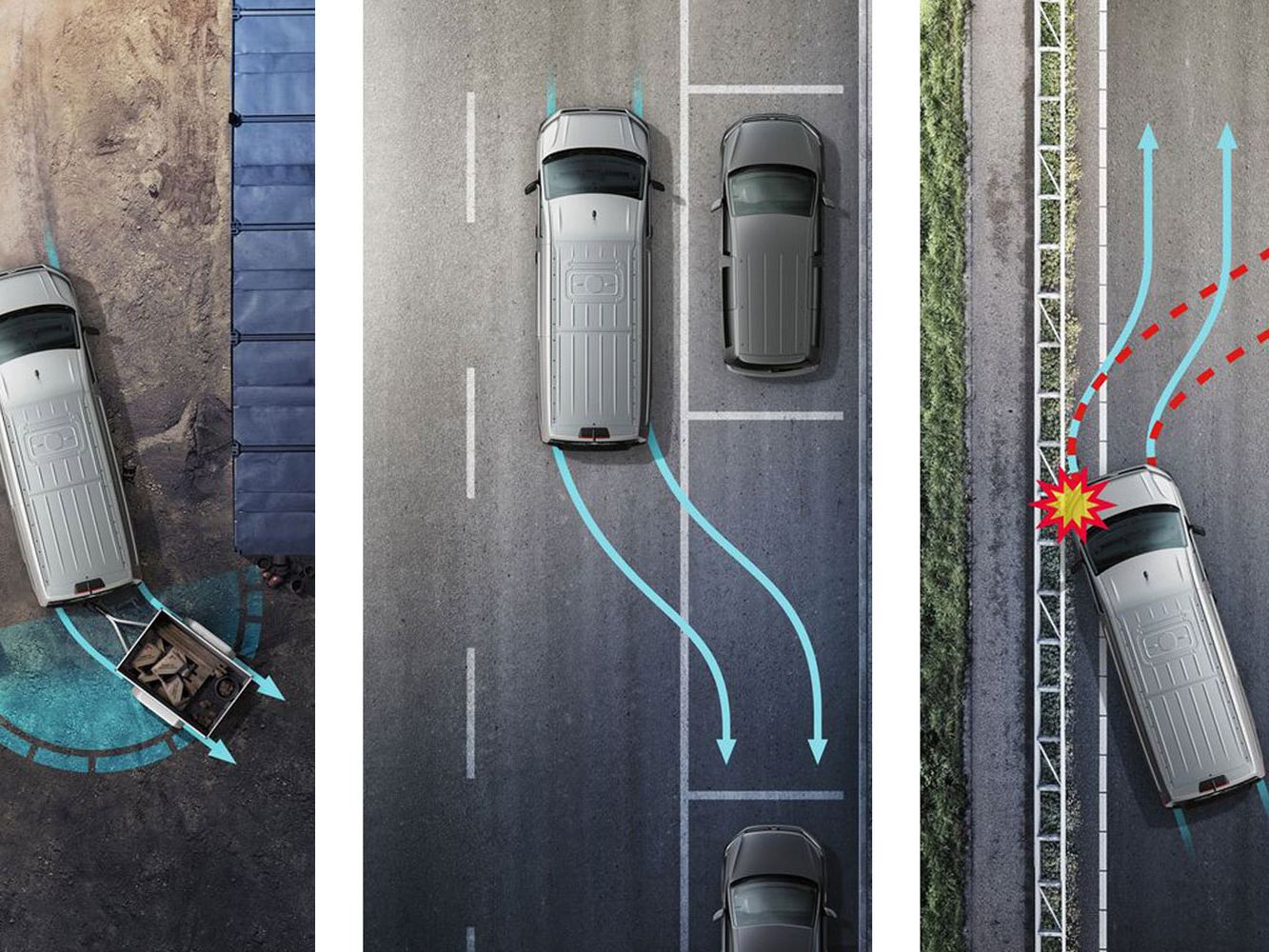 This Is What VW Vans are all about!
Safe travels, convenience for everyday transit and modern technology that is ageless. The Volkswagen Crafter allows you to take your business enterprises to the next level by investing in one of the best vans in South Africa.
Remember to book your test drive at a CFAO Volkswagen near you to experience all this medium to large van has to offer for yourself. Also, feel free to contact our staff with any burning questions, comments or queries you may have – they're always happy to assist.
Whichever options you choose rear-wheel drive or front-wheel drive, medium wheelbase, or long wheelbase – the new Crafter range is the van you want to have. We hope you enjoyed this VW van review, and we hope to hear from you soon!
Invest in a Volkswagen van that gets the job done time and time again. Choose a Crafter.