The VW Crafter is perfect for businesses with transportation needs. Its robust nature can cope with the most taxing road conditions, while its fuel-efficient TDI engine makes it perfectly suited to the typical South African business. So if you're looking for a vehicle that's reliable, durable and adaptable, the Crafter is the perfect choice.
Over the years, Volkswagen has established a reputation for delivering innovative, practical and reliable vehicles. This is also true for their VW Crafter range of vans. The German automaker knows how to make a top-quality, top-performing van to suit the needs of every business owner.
Discover a VW Crafter for sale that's the right option for all of your business needs!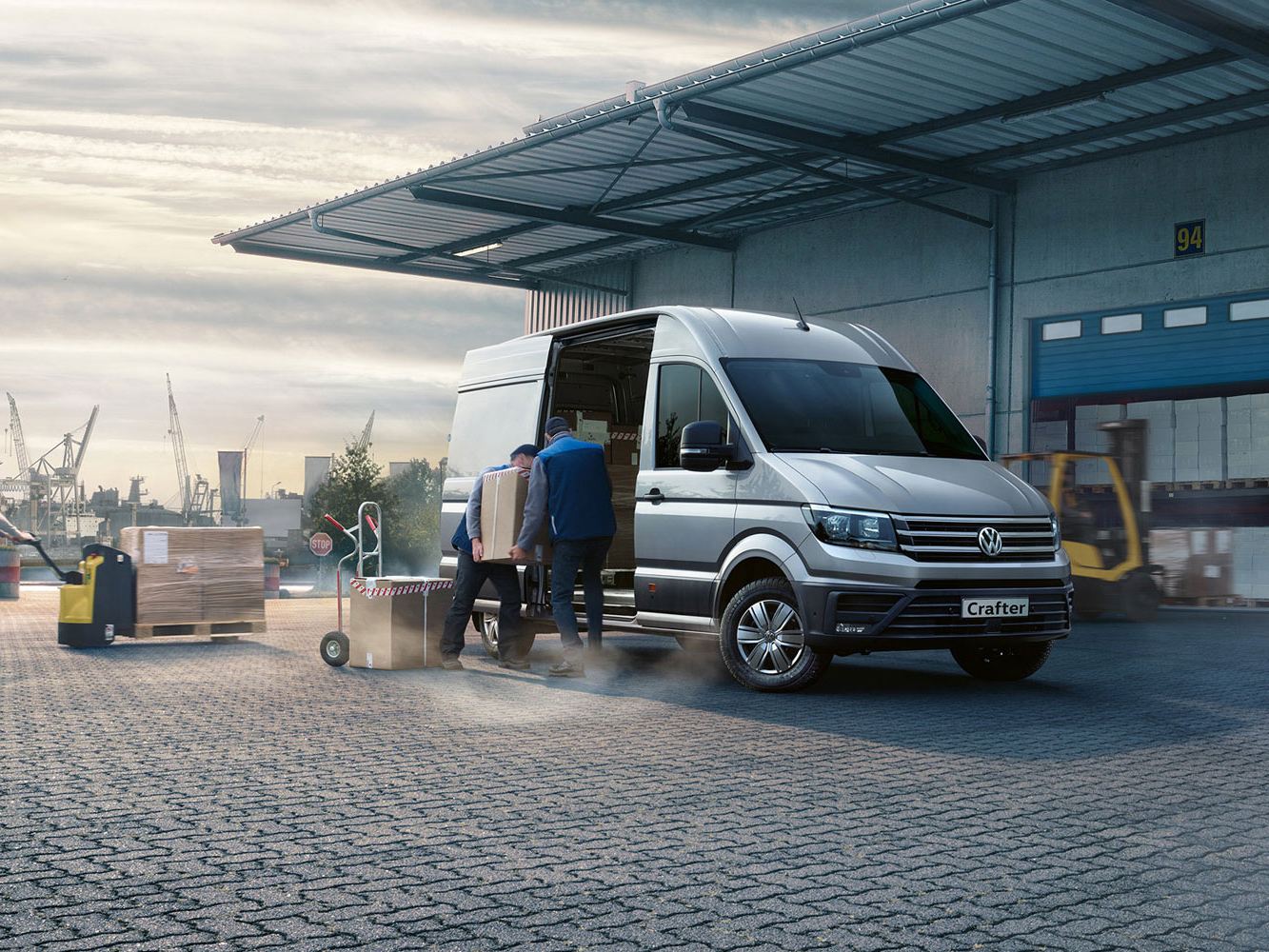 Quick Links:
Tough and Reliable Commercial Vehicles Fit for Every Job
The engineers and designers working on Volkswagen's commercial vehicles understand that every second counts for business owners. After all: time is money. To move your business forward, you need to invest in a vehicle that's as tough as it is reliable. It should be able to cope with all the daily pressures of doing business while remaining flexible as well as offering great value for money. The Volkswagen Crafter range is all of these things and more.
There are few vans that can beat the Crafter's up to 17.5 m3 loading capacity (depending on the derivative you choose). The VW Crafter is the perfect business partner. With its 75 litre fuel tank, sturdy frame, and generous loading capacity, the Crafter will deliver no matter what. Whether you're delivering packages or moving cargo, the Crafter is always up for the job. The Crafter is bound to become one of your star employees!
Find the Best Van Price to Meet Your Business Needs
Volkswagen South Africa is responsible for introducing all of the latest models to the country, including those currently found in the VW Crafter range.
CFAO Volkswagen is a proud stockist of the full Volkswagen South Africa passenger and commercial vehicle range, with dealerships spread out across the country. Thanks to our substantial stock holding, we always have a variety of new vehicles in stock. This means we can – more often than not – find the vehicle you're looking for within a very short time. If you want to order a custom vehicle that meets your requirements to a T, then we can also help. We have both new and used cars for sale.
When you buy any vehicle – including a Volkswagen Crafter – through your nearest CFAO Volkswagen dealer, then you can expect exceptional aftercare and the prospect of competitive prices. Be sure to speak to our F&I team to help set up a deal that's good for your budget, whether you're purchasing as an individual or a business. Don't leave this dream VW van on your wish list – make it a reality today!
2022 Volkswagen Crafter Price List
Before taking a look at the VW Crafter prices, please take note that all prices relating to the VW Crafter new range that mentioned in this article are subject to change without prior notice. Be sure to contact your nearest CFAO Volkswagen dealer for the latest, up to date prices, estimated monthly instalments and potential special offers.
| Derivative | Recommended Retail Price |
| --- | --- |
| Crafter 35 MCV 2.0 TDI 103kW Panel Van | R643,400 |
| Crafter 35 LCV 2.0 TDI 103kW Panel Van | R742,200 |
| Crafter 35 MCV 2.0 TDI 103kW Auto Panel Van | R682,000 |
| Crafter 35 LCV 2.0 TDI 103kW Auto Panel Van | R777,800 |
| Crafter 35 MCV 2.0 TDI 103kW 4MOTION Panel Van | R737,800 |
| Crafter 50 LWB 2.0 TDI 103kW Bus Conversion Ready | R753,000 |
| Crafter 50 LWB 2.0 TDI 103kW Panel Van | R753,000 |
| Crafter 50 LWB with overhang 2.0 TDI 103kW Bus Conversion Ready | R763,500 |
| Crafter 50 LWB with overhang 2.0 TDI 103kW Panel Van | R763,500 |
Optional Extras From Across the Volkswagen Crafter Range
Depending on the Crafter derivative you choose, some standard features may include a high roof, metallic or pearlescent paint and 270° rear doors. These standard features are available as optional extras in certain derivatives that lack them.
If you want something extra fitted on or in your Volkswagen Crafter, then consider the following additional options:
| Optional Extra | Price |
| --- | --- |
| Fixed Tow Bar | R11,200 |
| High Roof | R27,300 |
| Dual Sliding Doors | R13,100 |
| 270 Degree Rear Doors | R9,600 |
| Trendline Trim Exterior | R16,400 |
| Multi-Function Steering | R6,600 |
| Cruise Control | R5,450 |
| Air Conditioner | R16,400 |
| Radio Composition Media With 6 Speakers | R16,400 |
| Park Distance Control In Front And Rear With Sensor-Based Side Protection | R16,900 |
| Heavy-Duty Suspension System | R6,800 |
| Front And Rear Park Distance Control | R8,100 |
| Lane Assist Including Blind Spot Monitor With Rear Traffic Alert And Park Distance Control In Front And Rear With Sensor-Based Side Protection Including Exterior Mirrors, Power-Adjustable Heated And Folding. Only With Zi4 Composition Media Radio | R27,800 |
| Second Battery | R4,400 |
| Led Headlamps With Led Separate Daytime Running Light | R22,700 |
| Forward Collusion Warning Front Assist With Automatic Emergency Braking For Adaptive Cruise Control ACC Up To 160 Km/H, Including Speed Limiter With Multi-Function Steering Wheel. Only With Zi4 Composition Media Radio | R17,500 |
| Trailer Manoeuvring System With Trailer Assist, Park Assist, And Park Distance Control With Sensor-Based Side Protection. Only With Zi4 Composition Media Radio | R30,600 |
| Rear View Camera System | R5,250 |
| Park Distance Control In Front And Rear With Sensor-Based Side Protection. Blind Spot Monitor Including Rear Traffic Alert | R23,500 |
| Comfort Driver's Seat | R4,900 |
For full details on what you can expect to be included with the Crafter of your choice, as well as what you'll need to pay extra for, visit Volkswagen South Africa's Crafter Prices and Options page or download the brochure here. You are also more than welcome to contact your nearest CFAO Volkswagen.
Why Not Upgrade Your VW Van Maintenance Plan?
If you're a bit of a petrol-head, then you know the importance of regular car maintenance. However, even if you're not an enthusiast, it's important to have a car maintenance plan in place. Regular car maintenance can help improve your car's performance and extend its life span. And if you're a business owner, keeping your cars well-maintained can save you money in the long run. So, why not upgrade your VW Crafter's maintenance plan today, to prepare fully for the future?
Take a look at great the prices of our Easy Drive service plans:
| Maintenance Plan Upgrade | Service Plan Price |
| --- | --- |
| 5-year or 120,000 km | Standard |
| 5-year or 160,000 km | R6,084 |
| 6-year or 200,000 km | R14,284 |
| 6-year or 240,000 km | R20,367 |
| 7-year or 280,000 km | R28,907 |
| 8-year or 320,000 km | R36,768 |
| 9-year or 360,000 km | R45,275 |
| 10-year or 400,000 km | R53,815 |
Please note that availability is subject to an Active Genuine Volkswagen Maintenance Plan or, alternatively, an Active Standard Volkswagen warranty.
To find out more about service plan options, get in touch with a CFAO Volkswagen near you.
5 Reasons Why You Should Buy a Volkswagen Crafter for Your Business
If you're still on the fence about whether buying a Volkswagen Crafter van is the right decision for your business, then allow us to highlight some of this multi-purpose vehicle's features:
#1 Tried, Tested and Proven Durability
When the latest Crafter range was still in the testing phase, over 700 vehicles underwent rigorous testing. These tests included both aggravated long and short-distance testing with an identified durability of around 300,000 km minimum for the drivetrain, an intense 10,000 km corrosion test and more. Either LWB or MWB configuration is an excellent choice for a reliable workhorse.
#2 Unrivalled Cabin Ergonomics
Step inside the Volkswagen Crafter and settle down either behind the wheel, in the co-driver' seat or as a passenger. The cabin was created to offer all seat occupants complete and utter comfort and practicality. New features that will enhance your in-cabin experience include storage compartments large enough to accommodate laptops and A4 lever arch files, as well as spacious storage compartments found on top of the dash panel which can hold A4 writing pads. Volkswagen's latest Crafter range has been designed with the driver's needs in mind.
#3 Enjoy a Stress-Free Journey With Load Adaptive Control
When the Crafter undergoes any changes in its centre of gravity along its longitudinal axis or in terms of its vehicle mass, safety systems such as ABS, ESC and traction control are triggered in response to its vehicle load. This ensures that you can enjoy a smooth, safe and stress-free journey, even with a full load of cargo.
#4 It Features One of the Best Drag Coefficients in Its Class
The new Volkswagen Crafter range features optimised vehicle aerodynamics, which ultimately results in an aerodynamically designed van and incredible efficiency in terms of both emissions and optimal fuel consumption.
#5 Experience Improved Driving Comfort With Electromechanical Power Steering
To ensure that you experience enhanced driving comfort, the VW Crafter offers a driving experience similar to a passenger vehicle thanks to its electromechanical power steering, along with its suspension and chassis setup. This kind of power steering has another considerable advantage to it: it allows you to add driver assistance systems like Lane, Park and Trailer Assist.
Continue Your Business Journey in a VW Van That Can Do It All
As mentioned before, there are currently a variety of Volkswagen Crafter 35 and Crafter 50 derivatives for sale. If you're looking for new or used cars for sale, then we invite you to visit your nearest CFAO Volkswagen dealer to see the VW Crafter range for yourself.
We've also linked an informative video review below for your convenience:
Volkswagen Crafter FAQs
Is Sprinter and Crafter same van?
While they may appear similar, these are two completely different vans. The VW Crafter is the longer vehicle regarding its load length, which sits at 4,855m. Cosmetically, the Crafter also takes on a more boxy, simple outward appearance than that of the Sprinter. If you're interested in learning more about the differences between the Sprinter and the Crafter, you can read this article.
Where is Crafter made?
The VW Crafter is manufactured in the brand new VW factory in Poland.
How many seater is a Crafter?
Certain VW Crafter variants can seat up to 35 people. The seats can also be rearranged to best suit the desired number of passengers.
How much can a VW Crafter carry?
Your VW Crafter van can carry a total payload of 986kg. This is also dependent on what exactly you'll be transporting in your vehicle, however. For more information on your Crafter's weight expectations, check out the full vehicle guide here.
Come and test drive the Volkswagen Crafter for sale that you are interested in and put it to the test – we're sure you will be impressed. Book your Crafter test drive on your mobile device or computer now. Your new van could be right around the corner!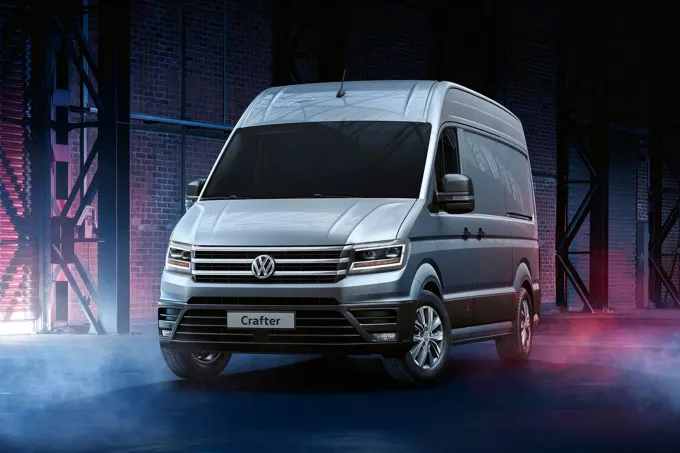 Additional Resources on VW Crafter
We hope you enjoyed this article on the latest VW Crafter prices. To pass the time while waiting for your test drive, be sure to check for VW Crafter news and read our other articles on the topic to learn more about the range:
If you are ready to make a purchase, there is always a variety of cars for sale at all our dealerships and keep in mind that we can order just the vehicle to suit your specific needs as well. We are happy to help find the ideal vehicle for you.
For the still undecided, feel free to contact one of our CFAO Volkswagen sales teams. They will be more than happy to assist you with any questions, comments or queries you may have about the new Volkswagen Crafter range.