VW Caddy Interior: The 5th Generation Range
The new range of the legendary Caddy is here. The all-new Volkswagen Caddy 5 is perfect for drivers who need a vehicle that's both stylish and practical. This versatile car comes with a new front grille and tailgate section, as well as plenty of great features to make every drive more comfortable and confident. Whether you're headed to the grocery store or on a road trip, the Caddy 5 is up for anything.
Read on to learn more about the new VW Caddy interior.

Say 'hello' to convenience and practicality
If you're a small business owner, you know how frustrating it can be to struggle with an impractical vehicle that just doesn't seem to be able to accommodate all of your goods or equipment, forcing you to make multiple trips or make do with the bare minimum. The same goes for family trips, the arguments over suitcase size and who have overpacked or fights over who has to squish in the back seats. Those days are over with the reliable and versatile Volkswagen Caddy 5 range.
Transport everything you need in one go and get the job done faster, saving you time that you could be using to grow your business even further. Avoid family arguments that get the holiday road trip off to an awkward start. The form and function of a new Volkswagen Caddy 5 make it ideal for conversions and can be transformed into a highly functional service and family vehicle, especially suitable for those working in the installation and repair industries, as well as many others.
CFAO Volkswagen stocks all of the latest vehicles on offer by Volkswagen South Africa at the eleven dealerships across the country. The newest VW Caddy Generation 5 includes the following vehicles:
The Standard Caddy 5 Variations:
• Caddy 1.6i 81kW Manual
• Caddy 2.0 TDI 81kW Manual
• Caddy Maxi 2.0 TDI 81kW Manual
The Caddy Kombi 5 Variations:

• Caddy Kombi 1.6i 81kW Manual
• Caddy Kombi 2.0 TDI 81kW Manual
• Caddy Maxi Kombi 2.0 TDI 81kW Manual
The Caddy Cargo 5 Variations:
• Caddy Cargo 1.6i 81kW Manual
• Caddy Cargo 2.0 TDI 81kW Manual
• Caddy Maxi Cargo 2.0 TDI 81kW Manual
This Volkswagen Caddy interior article will be looking at what the new range of VW Caddy 5th generation has to offer as a whole. To experience all your preferred model variant has to offer, be sure to schedule a complimentary test drive at a CFAO Volkswagen dealer near you.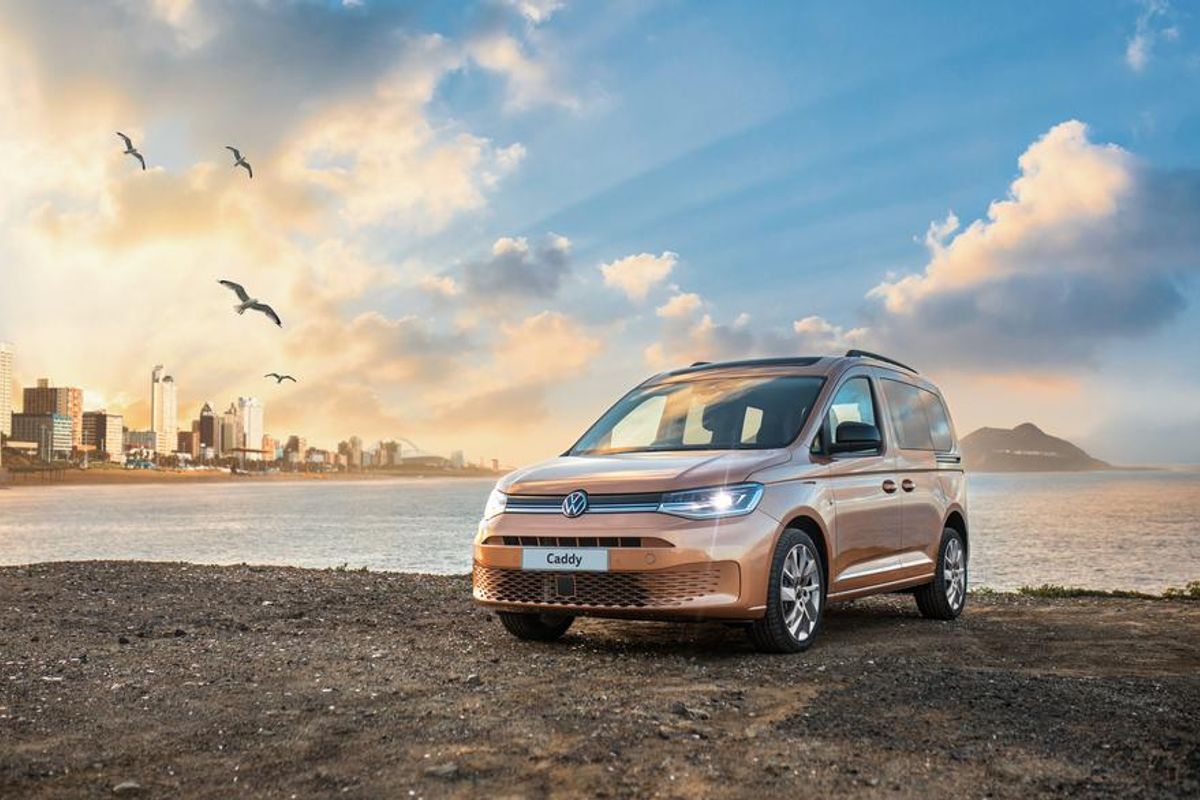 Volkswagen Caddy 5 Design and Practicality

The 5th generation Volkswagen Caddy has been upgraded with multiple new features that elevate the everyday driving experience. Volkswagen is always striving to innovate with new attributes that take your driving experience to the next level. Why settle for an average experience, when you can invest in a multi-purpose vehicle with the best safety features and modern updates.
Some of the key differences between the Caddy 4 and the new Caddy 5 range include:
• New front end redesigned grille and headlights
• New design for the taillights
• New design dashboard and cockpit
• New stylish seat trim cover
• Built on the MQB platform
• E-brake and auto-hold
• New durable alloy wheels
• Optional trailer manoeuvring
• New variety of body colours
• Optional App-Connect
In terms of interior technology, the new Caddy 5 is a benchmark in infotainment and intuitive operation. The Volkswagen Caddy 5 is the perfect car for anyone who wants an easy-to-use infotainment system. The 8.25-inch touchscreen makes it easy to control all of the car's features, and you can also connect to App-Connect through it. Whether you're browsing radio stations or making a call, the Caddy 5 is perfect for staying connected on the go.

Enjoy The Scenery As You Drive
Looking to add some extra fun and excitement to your daily commute? Look no further than the Caddy 5 Panoramic Sun Roof! This innovative glass roof gives you a clear view of the sky above and lets in plenty of natural light, making your drive feel that much more pleasant. Whether you're on a road trip or just running errands around town, the Caddy 5 Panoramic Sun Roof is sure to make your journey more enjoyable.
The new Caddy's panoramic sunroof is the perfect way to let a bit of light into your everyday journeys. With its optional glass roof, you can enjoy epic views and distract noisy passengers in the back. This optional upgrade is sure to add a bit of sunshine to your day – literally and figuratively! If you spend a considerable amount of time on the road, you need to have this optional feature. Let the outside in with a panoramic sunroof that helps add to your daily driving pleasure!
VW Caddy 5 Design Updates

The all-new Caddy is sure to turn heads with its sleek, stylish design. But it's not just about looks - this car is packed with innovative features that make driving a pleasure. The smart infotainment system and easy-to-use connectivity through App-Connect make it a breeze to stay connected on the go. And with heated wing mirrors that are electrically adjustable and foldable, you'll be able to enjoy convenient and stress-free driving. The Caddy 5 is well equipped with an array of standard features. You can also elevate your driving experience with
various optional add-ons.
Standard Features Included:
• Up to 7 Seats with flexible configuration
• Painted body-coloured bumpers
• Radio "Composition Colour" with a 20.96-cm colour touchscreen
• Black Roof Rails
• LED Head Lights
• E-Brake & Auto-hold
• Keyless Start Function
You can also improve your Caddy with our array of optional features:
• Rear View Camera
• Park Assist
• Trailer Manoeuvring
• Glass Roof
• Tow bar (fixed or removable)
• Rear Wing Doors
Peace Of Mind While You Drive
Looking for a car that's packed with advanced safety features Look no further than the new Caddy. Cruise Control keeps you steady and relaxed on long journeys, while Park-Assist with Rear-View Camera makes parking a breeze - even in tight spaces. Trailer Manoeuvring ensures you can confidently guide your trailer without any anxiety.
There's no need to stress over your safety when you are driving in a Volkswagen Caddy 5. With the new technological additions to this versatile vehicle, our engineers have ensured that you can drive with peace of mind. Over and above this – you will be able to drive in absolute comfort with the new ergonomic seats Installed in the VW Caddy 5. With all of these great new features, the Caddy 5 will undoubtedly be a crowd favourite for South Africans on the go!

You can also keep your belongings private with Caddy 5 Luggage Privacy! This innovative product allows you to cover your luggage compartment, preventing anyone from seeing inside. Whether you're packing for a vacation or just bringing home some new shopping bags, this feature ensures that your items stay hidden. Plus, the cover is easy to remove when necessary. Protect your belongings and travel in style and without stress with the VW Caddy 5!
Volkswagen Caddy 5 Space and Layout
A Volkswagen Caddy Panel Van may be seen as a compact by many, but don't let that fool you- this commercial has more than enough interior space to go around. Small business owners will be impressed with its triumphant load volume and its wide range of loading possibilities. Families will be delighted by the versatility of the interior as well as the stylish new exterior design.
The Volkswagen Caddy is perfect for small families or businesses looking for a vehicle with plenty of space. With configurations that seat up to 7 passengers and an easily accessible cargo area, this vehicle can handle whatever you need it to. Whether you're using it for business or pleasure, the Volkswagen Caddy 5 is a great option for anyone looking for a reliable and spacious vehicle.
The short wheelbase Caddy contains space for 5 passengers while the long-wheelbase Caddy Maxi is boasted with 7- seater transport capabilities. The short wheelbase Caddy Cargo and long-wheelbase Caddy Maxi Cargo will serve your business needs with loading space of 3.1m3 and 3.7m3 respectively and up to 6 lashing rings make it possible to transport goods securely.
Explore All the Volkswagen Caddy 5 Range Has to Offer
You are sure to find a new VW Caddy for sale to suit your specific needs in the complete Caddy line-up, consisting of the standard Caddy, the Caddy Kombi, and the Caddy Cargo.
The VW Caddy 5 is the perfect car for anyone who wants a little bit of everything. It's versatile and comfortable, making it the perfect choice for trips around town or long road trips. Plus, with a variety of different models to choose from, you're sure to find the perfect Caddy for your needs and budget. So what are you waiting for? Test drive one today!

To see everything the 5th generation Caddy range has to offer, read our other articles on the subject: